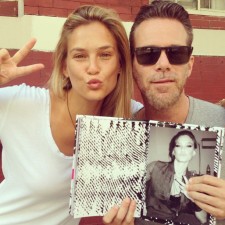 With the creation of their social media division, ONE.1k, Scott Lipps, the Founder and CEO of One Management talks about how he is using social influencers to adjust to the continued growth of the digital space.
Los Angeles, CA, August 29, 2016 (Newswire.com) - The modeling industry is currently experiencing a full fledged shift in how agencies showcase their models and manage their careers. That has led one major agency, NYC's One Management, to launch its One.1K division in 2014. The agency's founder, Scott Lipps, recently spoke to Influicity's blog about the evolution of the modeling industry. It's still the wild west, where everyone is trying to figure out their structure and engagement strategies. The interview can be read here.
​Interview Highlights:
I would say about 5-10% of our talent stems from social media.

Scott states that with the recent shift in the industry, he is fully embracing social

influencers

.

With the ubiquity of content, it's become increasingly difficult for magazines to differentiate themselves from their competitors. Scott discusses what magazine publishers need to do in order to stay relevant.

Scouting for talent has become a convenient uprise with the use of social platforms. No longer do talent agencies have to travel to different countries to search for models when they search the web with their fingertips.
Although One Management has worked with stars such as Nicky Minaj, A$AP Rocky, and Steve Aoki, the agency has seen success with its recently formed social media division, working with stars such as The Fat Jewish, Madison Beer, and Pia Mia, who amass a huge following of up to 8 million followers on Instagram.
"Right now we are really active on social media and scout organically," says Mr. Lipps. "It's more convenient to discover models on Instagram instead of traveling to Sweden, let's say, and finding talent there. Right now, I would say about 5-10% of our talent stems from social media."
Influicity's platform is increasingly being used by modeling agencies in order to manage and monetize their models in the social world. The platform, which is also used by marketers and publishers, allows companies to identify their influencers from across the entire social universe, measure audiences, run campaigns, handle payments & contracts, and access deep analytics.
Source: Influicity
Share: