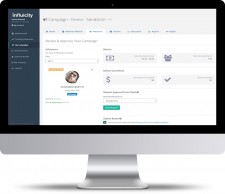 The popular influencer marketing platform has added Instagram analytics, budgeting tools and performance metrics, continuing to empower marketers calculate key performance indicators.
Toronto, Canada, September 14, 2016 (Newswire.com) - Just one month after launching the free version of their platform, Influicity has updated its product by introducing Instagram analytics within their reporting suite. This allows clients to monitor the total reach and impressions by each influencer. Budget and performance metrics have also been added to make it easier for clients to calculate key performance indicators. Once a roster has been created, marketers can analyze the estimated Fair Market Values, reach, impressions, and dollars committed to their entire roster.
The company released new tools to address budgeting and audience reach, which have been in demand among current customers. Influicity is trusted by marketers, agencies and publishers across the U.S. and Canada and assists in managing the accounts of these clients.
We've seen an insatiable appetite for really good data products surrounding influencers
"We've seen an insatiable appetite for really good data products surrounding influencers," says Influicity Founder & CEO Jonathan Davids. "Our product roadmap is heavily geared towards more accuracy and targeting for influencer campaigns."
Brand marketers are increasingly challenged with influencer selection, pricing, payments, audience targeting, workflow management, and reporting. Influicity offers a streamlined platform to manage relationships with influencers, make informed placement decisions, and run effective campaigns at social scale.​
The company has been adding new clients at a consistent pace, since the launch of it's "free" version in August 2016. Agencies and marketers can create an account and quickly begin using the platform to run their influencer programs. With a paid account, clients can access search, campaign management, and other advanced features.
Source: Influicity
Share: