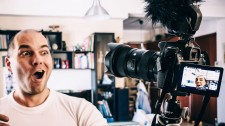 Being dubbed the "killer app" for influencer marketing, the 3 year old tech company is now rolling out a free version to truly democratize influencer marketing.
Toronto, Canada, August 10, 2016 (Newswire.com) - ​Influicity (http://influicity.com), the popular influencer marketing platform which has seen wide adoption among brands and agencies, is today launching a free version of its product for any company to use, in order to build their influencer networks, monitor their talent, and access deep performance & pricing data. The free version will provide essential, entry-level tools for marketers, PR firms, and other businesses who are increasingly collaborating with influencers. Since launching in 2013, Influicity has been trusted by companies across the US, UK, and Canada. The free version is designed to accelerate adoption with the rush of new clients entering the industry.
"When I started this company more than 3 years ago, I knew we were building something that would one day be the norm in any marketing department," says Jonathan Davids, founder & CEO of Influicity. "Influencer marketing today is where search engine marketing was, back in the early 2000's. The next few years will be critical in solidifying our long term position as the industry leader."
Peer-to-peer marketing will be a dominant force in the coming decade. At Influicity, we want to make sure we're structured for that opportunity.
Architecting
the free version of its software took months of planning and was based on years of usage data, customer feedback and industry trends. The company's primary user base consists of large marketers, ad agencies, and publishers. But in the last 12 months, smaller businesses, talent agencies, and even sole proprietors have come calling.
Mr. Davids explains:
"The bread and butter for so many influencer providers, up until now, has been the deep pocketed brands spending big bucks to work with star influencers. That's a tremendous market, but it's a fraction of what this industry is all about. From a supply perspective, influencers represent the single largest marketing vehicle ever conceived. Peer-to-peer marketing will be a dominant force in the coming decade. At Influicity, we want to make sure we're structured for that opportunity.
Influicity's free version provides the basic functionality of the product, with advanced features available for those who wish to upgrade for more functionality. Some product highlights include:
Hub - the centerpiece of Influicity, where the user can catalog their influencers and quickly access up-to-the-minute data.
Insights & Analytics - critical data on 10 million+ influencers, including fair market values, subscriber growth trends, engagement metrics, demographics, geographics, and more.
Magic Search - the most advanced influencer search tool, enabling users to enter detailed, plain english queries and obtain highly accurate influencer results.
Campaign Management - the full suite of tools needed to execute an influencer campaign, from briefing influencers, internal reviews/approvals, content management, and deep reporting.
Learn more about Influicity and create a free account here.
Source: Influicity
Share: