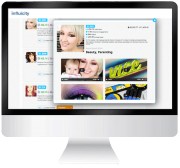 Influencer exchange rolls out an Instagram-specific search, as demand from fashion and luxury brand clients increases dramatically, in addition to its popular YouTube marketplace.
Toronto, Canada, May 5, 2015 (Newswire.com) - One year after launching its YouTube influencer marketplace, Influicity is broadening its marketplace with the launch of Instagram search. Brands and media agencies can now source from both Instagram and YouTube, search with filters such as age, gender, ethnicity, and subject matter, then harness the campaign management, pricing, and analytics tools to execute influencer campaigns. 
"Cracking the code on YouTube took our engineers over a year, and now we've done it again with Instagram," says Jonathan Davids, Founder & CEO of Influicity. "The best practices that we took from our expertise in YouTube have helped to accelerate our position on Instagram. Clients are already diving into all the new inventory."
Influicity now mines the data of over 3 million influencer channels, or 99% of the influencer population
While
YouTube
is the most prominent platform for influencer activity - with creators in beauty, food, tech and other categories -
Instagram
is quickly rising as a must-have in the corporate marketing strategy. Specifically,
Influicity's
fashion and luxury brand clients have gravitated to this platform.
Influicity now mines the data of over 3 million influencer channels, or 99% of the influencer population on YouTube and Instagram, including their subscribers, content views, audience segments, geography, and view-through rates. The data is then refined and presented with the click of a button. Brand clients such as Kimberly-Clark, Garnier, and General Mills are leveraging Influicity's powerful exchange to scale their influencer operations.
ABOUT THE COMPANY:
Influicity (http://influi.city) empowers marketers, agencies, and media companies with a platform to search, book, measure and collaborate with high-reach influencers on YouTube, Instagram, and across the social media universe. The influencer exchange has well over 3 million listings, with powerful tools to streamline and scale your influencer activations.
CONTACTS:
General Questions - Carmen Liu: carmen.liu@influicity.com
Founder & CEO - Jonathan Davids: j.davids@influicity.com
Share: