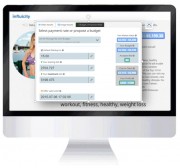 Fast growing influencer exchange launches a pricing management tool enabling marketers to calculate their costs, mark-ups and profits via a bidding system, streamlining the process of influencer purchases.
Toronto, Canada, June 30, 2015 (Newswire.com) - Just a few months after making Instagram-specific searches available on its platform, Influicity has introduced a completely streamlined method of pricing and bidding on influencers. Marketers can now place their own bids when sending offers to social influencers on YouTube and Instagram. For ad agencies and publishers, who book influencers on behalf of their marketer clients, the service even allows them to factor in price markups. The integrated bidding system was modeled after prominent ad services such as Google AdWords and Facebook Sponsored Ads.
After selecting an influencer and researching all of their critical data on Influicity, the buyer - say a media buying firm - can set their bid price. For example, the media buyer might ask a YouTube car-enthusiast with 500,000 subscribers, to showcase a new vehicle on camera. In return the advertiser would pay a specified price. With Influicity, the buyer can highlight to starting price and the max price they are willing to pay. They may also include agency fees and any cross-sell media placements.
"We've been listening closely to agencies, publishers, and marketers to truly understand their needs," says Influicity CEO Jonathan Davids. "With all the moving parts of an influencer activation, this is one less thing that a buyer needs to worry about. Along with the Fair Market Values that we include with each influencer, this will make it that much easier for a global marketers to work with influencers."
With the rise of social content creators across the web, marketers' main struggle is to find the best voices for their brands. Influicity mines the data of 3 million influencer channels - over 99% of the influencer population on YouTube and Instagram - and makes it easy to search, book, manage, and collaborate on marketing activations.
ABOUT INFLUICITY:
Influicity empowers marketers, agencies, and media companies with a platform to search, buy, measure and collaborate with high-reach influencers on YouTube and across the social media universe. The influencer exchange has well over 1 million listings, with powerful tools to streamline and scale your influencer activations. Learn more at www.Influicity.com.
Share: