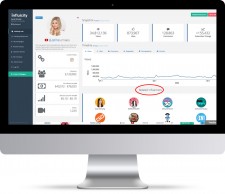 The popular influencer platform has added Related Influencers to empower marketers with even more discovery tools
Toronto, Canada, October 5, 2016 (Newswire.com) - Influicity has added to its platform by introducing Related Influencers to the suite of tools. This feature equips marketers with the ability to view one influencer in the Hub, then scroll down for others who share similar audience profiles. This feature builds on the company's extensive discovery tools, which already include multiple search methods. It also comes just a few months after the company rolled out Magic Search.
Influicity has engineered its product roadmap to address key requests coming from the advertiser community. One of the most prominent requests has always been discovery -- marketers want new, better ways to find influencers.
This is one more step in knocking down those walls.
"We are constantly hearing the pain around finding new influencers," says Influicity Founder & CEO Jonathan Davids. "Big brands are working continuously with the same people because they just don't have access to the true market supply. This is one more step in knocking down those walls."
Brand marketers are continually jumping hurdles with influencer selection, pricing, payments, audience targeting, workflow management, and reporting. Influicity offers a streamlined platform to manage relationships with influencers, make informed placement decisions, and run effective campaigns at social scale. The company currently serves large retailers, media buyers, and publishers, who are building their influencer businesses on top of the platform.
The company has been adding new clients at a consistent pace, since the launch of its "free" version in August 2016. Agencies and marketers can create an account and quickly begin using the platform to run their influencer programs. With a paid account, clients can access search, campaign management, and other advanced features.
Source: Influicity
Share: