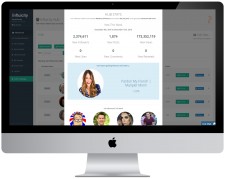 HubStats, now included on the Influicity Hub, provides marketers with metrics and analytics, on how their social influencers are performing.
Toronto, Canada, December 15, 2016 (Newswire.com) - Influicity has released HubStats, empowering marketers to monitor and analyze the weekly activity of influencers loaded into their network. Users can track performance numbers like subscriber growth, decline, top content and more. Clients can set up weekly emails with a HubStats update, or click the button on their dashboard to view the latest data.
The influencer media platform is used by dozens of the largest agencies and brands to manage influencer selection, execute campaigns, media amplification, and in-depth reports. Many of these clients are now using the platform to manage increasingly larger networks of influencers, across YouTube, Twitter, Instagram, and individual blogs. The addition of HubStats further helps in the decision making process, when building and managing that network.
Data highlights include:
Fastest growing influencer of the week
Net new subscribers within your network of influencers
New likes, comments, and engagements
Up-and-coming influencers within your network
"If there's any information we can provide to help brands better understand their influencers, we'll make it happen," says Influicity Founder & CEO Jonathan Davids. "HubStats is an example of rapid product development in response to a growing client need."
Influicity rolls out new updates to its platform on a weekly basis, and engages clients regularly for insight on their pain points.
Marketers are continually jumping hurdles with influencer selection, pricing, payments, audience targeting, workflow management, and reporting. Influicity offers a streamlined platform to manage relationships with influencers, make informed placement decisions, and run effective campaigns at social scale. The company provides technology and services to advertisers across retail, CPG, automotive, finance and lifestyle products.
Source: Influicity
Share: