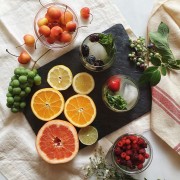 Newly launched vodka brand, Made Real, builds a community of "change makers" by collaborating with influencers in their #MadeReal campaign through the use of Influicity's powerful search and campaign management tools.
Los Angeles, California, August 20, 2015 (Newswire.com) - Made Real has officially launched its brand of Vodka by engaging social influencers for their #MadeReal campaign. The brand is aiming to gather women of all professions and walks of life, to celebrate their lifestyles and accomplishments. Aimed at female entrepreneurs based in New York City, the execution has reached 468,000 people and generated over 22,000 engagements.
Made Real leveraged Influicity to identify and book influencers that resonated with the target audience. In addition, the platform was used for campaign management, content approvals, and analytics.
The activation featured 3 photographers and lifestyle influencers who are the archetype representations of what the brand stands for, such as @eggcanvas on Instagram who has 184,000 followers. Instagram influencer @_tamarapeterson also shared a photo with her 136,000 fans.
The campaign launched in late July with a poolside cocktail tasting event where influencers and their friends were invited to sample the product, network with other entrepreneurs and meet the founders of the brand. Throughout the week, the influencers were each asked to contribute to building the community of entrepreneurial women by showcasing their lifestyle and taking part in the #MadeReal hashtag.
Influicity mines the data of over 3 million influencer channels with its proprietary technology, then refines this information and presents it to marketers and ad agencies with the click of a button. With its recent launch of Instagram-specific search and its pricing and profit management dashboard, the influencer exchange has grown rapidly as media companies, ad agencies and global marketers dedicate bigger budgets to social content creators.
Share: