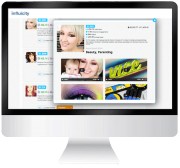 Founding CEO and majority shareholder of SHOP.CA joins Influicity's advisory board to assist the company in its rapid growth, opportunity for market leadership and ability to achieve global scale.
Toronto, Canada, May 28, 2015 (Newswire.com) - ​​​​​Drew Green will join Influicity as an investor, adding to the funding round Influicity completed in March 2015. In addition, Drew Green will join Influicity's advisory board bringing his experience as a media, commerce and technology entrepreneur. Influicity operates an exchange and campaign management platform that empowers marketers to work with social media influencers, and is quickly becoming the market standard as marketers dedicate billions of dollars to influencer activations globally.
Known as a subject matter expert in eCommerce, Digital Media, Mobile Marketing and high growth management, Drew has spent his entire career connecting marketers and publishers with online audiences through digital media and marketplace focused platforms in the United States, UK and Canada.
"Drew is a dynamic and visionary entrepreneur, as well as an exceptional executive with a proven track record within media, technology and Commerce," says Jonathan Davids, Founder & CEO of Influicity. "He built SHOP.CA into one of Canada's largest and fastest growing technology companies and the global platforms he is incubating within Katapult Internet are inspiring. Being able to tap into his experiences and skill sets will add tremendous value to our team, and the opportunity for all shareholders."
In addition to Drew Green, Influicity's advisory board includes broadcast executive Kevin Shea, industry leader Stephen Tapp, and MIT's Barnard Crespi.
"Influicity is uniquely positioned to connect the entire population of social influencers with marketers and media buyers through an exchange that gives the ability to connect, measure, collaborate, and scale all their social influencer placements through one platform," says Green. "Influicity has established industry leading partners that are perfectly aligned with its ambitious plans for growth. For me, this is an opportunity to work with an incredible entrepreneur and help him establish a global media platform."
Influicity has been experiencing rapid growth as media companies, agencies, and global marketers quickly adopt its demand-side platform. The proprietary technology behind the company allows buyers to quickly find social talent, identify the pricing and budget requirements, then manage campaigns with a robust toolset. Campaigns can scale seamlessly, with integrations into other media properties.
With the rise of social content creators across YouTube, Instagram and Twitter, marketers are struggling to get their products into the right hands. Influicity's platform provides a direct connection into the global supply of influencers, talent managers, networks, and other players in the space. The platform is quickly becoming an industry standard.
Investors include MaRS Investment Accelerator Fund, Slaight Communications, and Swing Media, among others.
ABOUT INFLUICITY:
Influicity empowers marketers, agencies, and media companies with a platform to search, buy, measure and collaborate with high-reach influencers on YouTube and across the social media universe. The influencer exchange has well over 1 million listings, with powerful tools to streamline and scale your influencer activations. Learn more at www.influicity.com
ABOUT KATAPULT INTERNET:
Katapult Internet's purpose is to inspire, mentor and advise young entrepreneurs through all stages of corporate and business development.  Katapult currently has over $100 Million in equity holdings across ten companies creating change, four of which it founded and has majority ownership in.  Learn more at www.katapult.ca
CONTACTS:
Drew Green: drew@drewgreen.com / 416-602-4415
Jonathan Davids: j.davids@influicity.com / 1-800-979-9910 x2002
GENERAL REQUESTS:
Carmen Liu: carmen.liu@influicity.com / 1-800-979-9910 x2004
Share: